You may want to know about the advantages and disadvantages of Incandescent lamps. Don't you want to?
If so you are at the right spot because in this article I am going to discuss Incandescent lamps with their types, advantages, and disadvantages.
And at the end, we will do a compression between LED light and Incandescent bulb light.
So, keep reading till the end but first, start with what is an incandescent bulb.
What is an Incandescent Bulb?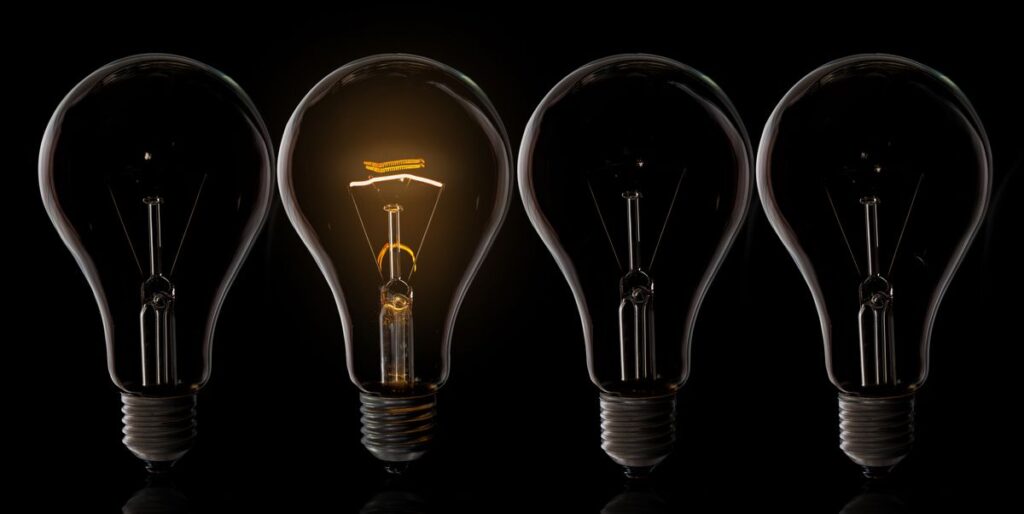 The electric bulbs that used electric current to get heated and produce visible light are known as Incandescent bulbs. These bulbs are made of wire filament and filled with inert gas because they are made of glass as well.
In simple words, you can say they have used electric current to generate light energy.
No doubt, now LED light bulbs are to take over them. But Incandescent bulbs are still known as a traditional source of light. Especially these bulbs are widely used in lamps.
So, their trend is still alive in lamps and they provide a traditional and unique look to their lovers.
Why it is called Incandescent?
It is called an Incandescent light bulb because it follows the principle of obtaining light from heat.
Advantages and Disadvantages of Incandescent Lamps
Advantages of Incandescent lamp
It provides a traditional warmer color to a room
It provides high light output
It can be controlled and you can be dimmed easily with the help of rheostats
Easy bulb replacement whenever you want to replace it
It can be quickly switched on and provides immediate light
Warmer source of light; It provides one or two degrees of heat in a small room
Free from toxic materials
Disadvantages of Incandescent lamps
It is not more durable and long-lasting. Bulb life is short, around 1000 hours
Not suitable in summers because it is a warm source of light
Higher maintenance cost; You need to replace bulbs multiple times
Need to be handled carefully
It can be blasted or fused even under a few voltage fluctuations
Required more energy to run
Types of Incandescent bulb Lights
Standard Incandescent bulb Lights
The typical standard Incandescent light bulbs were invented by Thoma Alva Edison. It is known as a sealed glass bulb that has a filament inside.
When you switched on the lamp, the electricity passed through the bulb's filament and it gets heated and as result the filament emits radiation.
So, at high temperatures, the thermal traditions produce a visible amount of light from the filament. It is made of glass so it can spread the light easily.
Tungsten Halogen Bulbs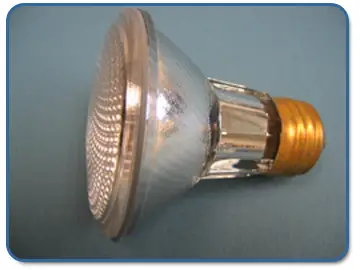 The Incandescent lamps with halogen gases that are sealed inside the bulb and the inner coating help to reflect heat back to the filament- known as Tungsten Halogen Bulbs.
It can provide the same light output with less power as a standard incandescent bulb. Halogen gas filling increases the durability of the bulb and makes it long-lasting than a standard incandescent bulb.
So, you don't need to replace them soon. That directly reduces your maintenance cost as well.
Reflector Lamps
Reflector lamps can spread the light in different directions because of their specific design. The silver coating on its sides plays a mirror role. So it can reflect all the light waves that are coming back or on other sides to the front.
Spotlighting and floodlighting both are examples of reflector lamps. These lamps are used for large areas of a home. Because they provide high power light and cover a large area.
Tubular Halogen Bulbs
Tubular tungsten halogen bulbs are most commonly used and popular in floor lamps that can provide general lighting to a large area. They need a high temperature to operate so they can provide better energy efficiency than any other standard Incandescent type bulb.
How Incandescent Lamps Construct
As I told you above the Incandescent bulb is firstly made by Thomas Elva Edison in 1879. With a simple structure, it has a metal contacts base that is connected to the end of a circuit.
Further, these metal contacts through the wires that are attached to the filament.
This tungsten filament is sealed in a glass cover in the center that is the main cover of an Incandescent bulb as well.
The bulb is filled with inert gasses like argon nitrogen and argon. When you turn on the bulb, the current flows in the tungsten filament through wires, and as a result, the bulb provides a high-power light.
LED vs Incandescent light; Comparison
Whenever we do a comparison between LED and Incandescent bulbs, it really makes a difference. Let me show you how.
Most importantly LED lights use 75% less amount of energy than an incandescent bulb. So, LED bulbs are more efficient than Incandescent bulbs in both power and durability.
LED bulbs have electrons that lead to creating photons in the form of light we see. These photons provide the same light and brightness as an Incandescent bulb but take less amount of energy.
So, you can say that LED bulbs save electricity as well.
Wrap up
You can see the clear difference between an Incandescent bulb and other types of light bulbs. No doubt the trend of Incandescent bulbs is over. But still, there are people who love traditional things especially when it comes to lighting up their rooms.
Are you from these people? If so do provide your answer in the comment section.
Furthermore, in-room lamps, there is still a trend of using Incandescent bulbs. Because they provide a controlled power light.
So, keep in mind the advantages and disadvantages of Incandescent lamps while choosing.
---
FAQs
Are Incandescent Lamps safe?
They are safe but not more than a LED bulb lamp because they emit polluting radiation in a less amount. Further, they produce a little bit of heat as well. So in winter, they are more suitable but in summer they may create some hassle in the form of overheating (usually one or two degrees).
Are Incandescent lamps brighter than LED?
Both have almost the same brightness level and provide the same amount of light. But LED light lamps are more energy-efficient and long-lasting than Incandescent bulbs lamps.
Related Topic: How to Replace a 3-way Lamp Switch